Jones Metal Molding carries a very wide range of product lines for the cabinet manufacturing industry. This is a list of the product lines we carry.
If you are looking for our SHOWROOM to view and browse actual product images and displays, please visit our Showroom by clicking the Showroom link above.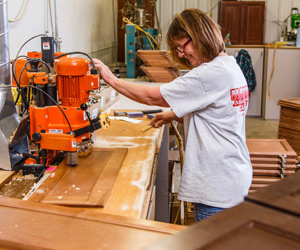 A
Aluminum Extrusions
Abrasives
Appliance Lifts
Appliance Garages
B
Bumpers
Builders Hardware
Bar Pulls
Bits
Brackets
Bearings & Ball Bearing Slides.
C
Catches
Casters
Closet Rod & Ends
Cam Locks
Cabinet Accessories
Coat Hooks
Cupboard Latches
Coveralls
Ceramic Knobs
Cup Pulls.
D
Drawer Slides
Drawer Inserts
Drawer Spacers
Drawer Front Screws
Drilling Jigs
Door Knobs
Door Stops
Door Ladders.
E
Edge Banding & Trimmers
European Hinges & Hardware
Euro Screws
Everything your looking for.
F
Friendly & Fast Service
FastCaps
Full Extension Slides
Face Frame Screws.
G
Glass Door Hinges
Glass Clips
Grommets
Glue
Glue Bottles & Caps.
H
Hinges
Hinge Insertion Machines
Hardware Installation Jigs
Hampers
Half Moon Glide Outs
Heavy Duty Slides & TV Swivels
Hanging Rails.
I
Institutional Hinges
Inset Hinges
Incredible Service.
J
Jigs
Just Good Service.
K
Keyboard Trays
Keyboard Slides
Knockdown Fittings.
L
Lazy Susans
Lid Stays
Locks
Lighting
Label Holders
Legs
Leg Levelers.
M
Mirror Clips
Metal Moldings
Molding Cutters
Magnetic Bit Holders
Machine Screws.
N
No Voicemail – You will speak to a real person.
O
Overlay Hinges
Oven Brackets
Over Head Hinges
Pocket Door Hardware.
Plate Racks
Pantry Pullouts
Pulls Piano Hinges
Paper Grommets.
Q
Quick Response to your call
Quick Delivery & Shipping
Questions answered.
R
Recycling Centers
Refrigerator Pulls
Range Hoods & Ventilators.
S
Sliding Door Hardware
Sink Front Trays
Screws & Screw Covers
Shelf Standards & Supports
Safety Glasses, Sanding Paper
Discs & Sponges
Sockets & Silverware Drawer Organizers.
T
T.V. Swivels
Tape Measures
Table Legs
Tack Glides
Touch Latches
Tambour and Tambour Tracks
Trash Cans
Towel Bars.
U
Under Sink Baskets
Utility Baskets
Under Mount Slides
Under Cabinet Lighting.
V
Valances
Vent Hoods & Ventilators.
W
Wide Belts
Wire Pulls
Wine Glass Holders
Wood Dowels & Biscuits
Wood Knobs & Pulls
Wine Racks
Wire Grills
Wood Putty
Wicker Baskets
Wire Grommets.
X
X-TRA Stuff You Need.
Y
Youngdale Hinges
Your Satisfaction.
Z
Z-Clips for Hanging Rail.